Current News & Conditions for more information, contact:
Cry of the Loon
618 Long Pond Rd.
Long Pond Twp., Me 04945
Telephone: (207) 668-7808
Cell: (207) 349-0389


TAKING RESERVATIONS

FOR THE 2023 SEASON
The Moose River Bow Trip

The Bow Trip, outside of Jackman, Maine, is one of the most well known multi-day paddle trips in the state of Maine, or for that matter in the Northeast. Traveled by many individuals each year it affords the paddler a place to experience the quiet beauty of the woods in Northwestern Maine.

From scenic, island-studded ponds like Attean and Holeb to short, fun-filled class I and II rapids the trip offers something for all paddlers. This paddle trip is located in the heart of the Moose River Valley near Jackman. From the south, it is very easy to get there. Exit 133 from Interstate 95 hits Route 201. The best instructions from there are "go north and stay on 201", Jackman will be there just before the Canadian border.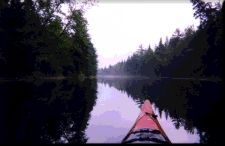 The Moose River Bow TripThe town of Jackman was incorporated in 1859 and has long relied on the outdoors as a major source of income. The timber industry to this day employs more people than any other, while recreational pursuits come next. The town of Rockwood lies thirty miles to the east on Moosehead Lake and Greenville is another 20 miles south.


Cabin on the Bow TripThe region has long been a favorite for the outdoorsman and it remains so today. Whether fishing, whitewater rafting, mountain biking, sightseeing or paddling one of the many lakes, ponds, and rivers, there are numerous possibilities for one to enjoy. Changes in timber harvesting in recent years has made tourism an increasingly important part of the economy. Lying a mere 17 miles from the Canadian frontier, there is a feeling of isolation whenever you venture onto one of the dirt roads in the area leading into the forest.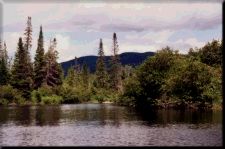 For many paddlers, the Bow trip begins and ends in the same place, on Attean Pond just west of Jackman. There is a boat landing down the Attean Rd. where a section of the Moose River between Attean and Big Wood Ponds can be reached. For others, including most outfitters, the trip starts further north and to the west on Holeb Pond to avoid a mile long portage between Attean and Holeb Ponds. Holeb Pond is reached by an hour drive on well-used wood roads. Cry of the Loon offers shuttle service to avoid the one-mile portage.